THE RNASA BOARD OF ADVISORS
The Rotary National Award for Space Achievement Board of Advisors nominates and elects the annual National Space Trophy winner. These distinguished individuals are leaders in government, industry, and the media, and are intimately involved with the space program.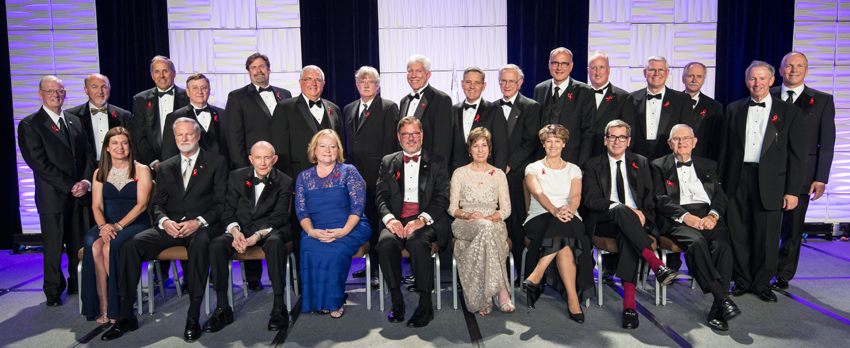 View full size image.
Some members of the RNASA Board of Advisors. Back row L to R: Lunney, Cazes, Miller, Culbertson, Carr, Brandenstein, Carreau, Nield, Cabana, Holloway, Hieb, Vantine, Coats, Gerstenmaier, Michael Griffin, Stegemoeller. Front row L to R: Kropp, Hutchinson, Stafford, Hendershot, Pulham, Ochoa, Collins, O'Brien, Aldrich. (NASA Photo, April 29, 2016)
The links below provide more information about some of these individuals.
George W. S. Abbey
Jim Albaugh
Arnold D. Aldrich
Edward C. Aldridge Jr.
Jim Asker
Dr. Norman R. Augustine
David E. Bowles
Capt. Daniel Brandenstein, USN (Ret.)
Col. Robert D. Cabana, USMC (Ret.)
Dr. Donald J. Campbell
Jeffrey E. Carr
Mark E. Carreau
David Cazes
Capt. Eugene Cernan, USN (Ret.)
Gen. Kevin P. Chilton, USAF (Ret.)
Capt. Michael L. Coats, USN (Ret.)
Col. Eileen M. Collins, USAF (Ret.)
Col. Richard O. Covey, USAF (Ret.)
Capt. Robert Crippen, USN (Ret.)
Capt. Frank L. Culbertson Jr., USN (Ret.)
Ronald D. Dittemore
Maj. Gen. Joe H. Engle, ANG/USAF (Ret.)
G. Allen Flynt

James M. Free
Hon. Donald Fuqua
William H. Gerstenmaier
Hon. John H. Glenn Jr.
Dr. Gerald D. Griffin
Dr. Michael D. Griffin
Jim Hartz
J. Milt Heflin
Cynthia Hendershot
Richard J. Hieb
Tommy W. Holloway
Neil B. Hutchinson
Hon. Kay Bailey Hutchison
Sandra G. Johnson
John C. Karas
Dr. Joseph P. Kerwin
Eugene F. Kranz
Debbie Kropp
Dr. Glynn S. Lunney
Dr. Sandra H. Magnus
David D. McBride
Lon Miller
Bob Mitchell

Dr. George C. Nield
Miles O'Brien
Ellen Ochoa
William W. Parsons
Brig. Gen. J. Gregory Pavlovich
Thomas B. Pickens III
Elliot G. Pulham
William F. Readdy
Capt. Kenneth S. Reightler Jr., USN (Ret.)
Hon. Harrison H. Schmitt
Col. Brewster H. Shaw, USAF (Ret.)
W. Tom Short
Wanda Sigur
Mark Sirangelo
Lt. Gen. Thomas P. Stafford, USAF (Ret.)
Dr. William A. Staples
Charles M. Stegemoeller
Richard D. Stephens
V.Adm. Richard H. Truly, USN (Ret.)
Dr. William Vantine
George Whitesides
Capt. John W. Young, USN (Ret.)
Former Members of the Board of Advisors
The Former Members of the RNASA Board of Advisors page lists the former members as of April 2016.